Inspiration: What Sparks Your Urge To Create, To Pursue, To Accomplish
The Spring 2015 issue is available at our distributors!!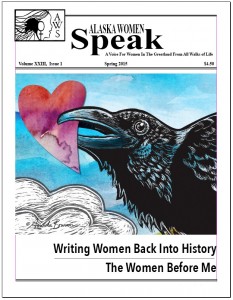 Call for Submissions
Summer 2015 Theme: Compassion 
Submissions Due: May 15, 2015
Fall 2015 Theme: Fireweed 
Submissions Due: August 15, 2015
Submission Guidelines:
Send email submissions to alaskawomenspeakyahoo.com. Please attach files saved in .doc  or .rtf format and include your mailing address with submissions.
Send typed or legibly handwritten submissions to Alaska Women Speak, PO Box 15225, Fritz Creek, AK 99603-6225
Preference for submissions is 1200 words or less and priority is given to early submissions.
Original photography and art work can be returned upon request; place address label on the back of each, and  include a stamped, self-addressed envelope.
Submit creative writing, journalistic and informational articles, and poetry (1200 words or less) that would be of interest to Alaskan Women: alaskawomenspeak@yahoo.com.
---
AWS Mission Statement
Alaska Women Speak, published quarterly since 1992, is a journal devoted to the exchange of ideas, literature, art and heart talk, as well as a statewide update of women's political and social issues and activities. We desire that all content in the artwork and written material will reflect a commitment toward equality, freedom of choice, and personal empowerment. We provide a feminist and multi-cultural perspective serving as a source of connection and inspiration for all women. Views expressed by contributing writers are not necessarily those of the AWS staff. Although most submissions are published, we reserve the right to reject material. Editing for clarity or brevity may be done at the editor's discretion. Entries submitted are not returned. AWS will not publish anything that denigrates any animals, people, or the environment. Contributing writers retain First Rights of published material. © 1994 Alaska Women Speak