Alaska Women Speak
Alaska Women have a story to tell. Alaska Women Speak is the journal devoted to their expression of ideas, literature and art.
---
Summer 2016 : Things Lost (& Found)
Available at Barnes & Noble and local independent book sellers statewide.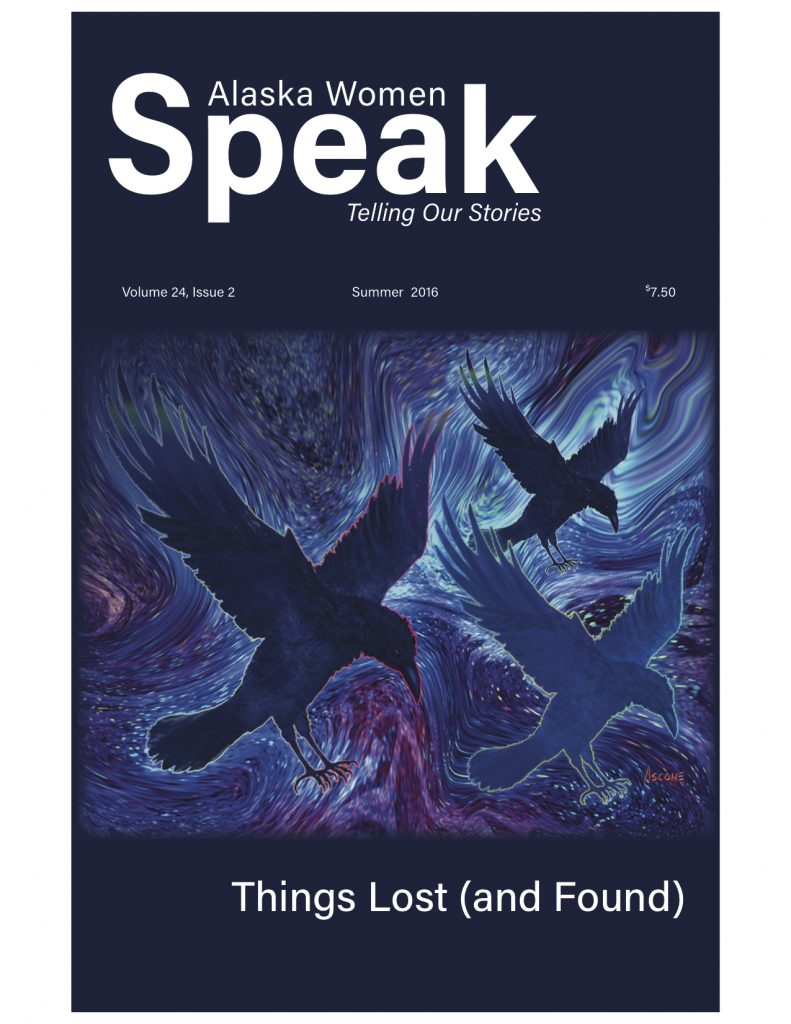 ---
Upcoming themes:
Fall 2016: Landscapes
Deadline for Submission: August 15, 2016
Winter 2016: Ice Chipping
Deadline for Submission: November 15, 2016
---
Submission Guidelines:
Alaska Women Speak welcomes submissions in the following genres: non-fiction, poetry, fiction, memoir, creative non-fiction, and essay. We also publish visual art and photography.
AWS proposes a theme for each of its quarterly installments, but writers are reminded that interesting and well-written pieces outside the proposed theme are considered.
Poetry is ordinarily placed in a single column, and occasionally we must break a piece into two parts. Poets be mindful we will work with our available space.
Preference is for submissions of 3000 or fewer words. AWS is a non-profit, volunteer-run publication. We do not pay for submissions, and writers retain full rights to their work published in AWS.
Email submissions to alaskawomenspeak@yahoo.com. Please attach files in .doc or .rtf format. Word files typed in size 12, Times New Roman are preferred.
---