Alaska Wild Salmon | Summer 2014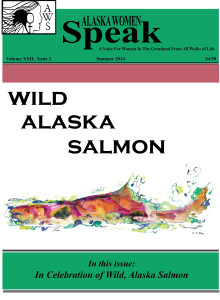 We are excited to announce that V Rae Prewitt is the cover artist for the Summer 2014 issue of Alaska Women Speak. She submitted her work with the statement, "Attached is a painting I did last summer entitled Dawn Spawn. The medium is watercolor on Yupo (a slick surface synthetic fine art paper). It is a portrait of a King Salmon that spawned for several days in our back yard bordering Rabbit Creek near Potter Marsh."
This issue should begin arriving in mailboxes and be available at our Distributors in early July.
Call for Submissions | Upcoming Themes
Fall 2014: Cabins I Have Loved: Housing in Alaska Alaskans who have been in Alaska for a while will have some stories for sure, but it is hoped that all will be able to share a story, poem or a picture that will elicit our imagination. This is your chance to write about the unique Alaskan quality in our homes. Again, calling artists for cover art for this issue.
Deadline for submissions is August 15th, 2014.
Submission Guidelines
We prefer submissions e-mailed as an attachment, or on a disk in Microsoft Word; files saved as .doc or .rtf (Rich Text Format).
Typed or legibly handwritten work is also acceptable.
Electronic submissions may be sent to alaskawomenspeak@yahoo.com Please label these AWS Submission.
Preference for submissions is 1200 words or less with a preference for early submissions.
Photography and art work can be returned upon request; place address label on the back of each, and include a stamped, self-addressed envelope.
Poetry is ordinarily placed in a single column. Occasionally we must break it into two parts; poets be mindful we will do it on the basis of space available.
Submit creative writing, journalistic and informational articles, and poetry (1200 words or less) that would be of interest to Alaskan Women: alaskawomenspeak@yahoo.com.
---
AWS Mission Statement
Alaska Women Speak, published quarterly since 1992, is a journal devoted to the exchange of ideas, literature, art and heart talk, as well as a statewide update of women's political and social issues and activities. We desire that all content in the artwork and written material will reflect a commitment toward equality, freedom of choice, and personal empowerment. We provide a feminist and multi-cultural perspective serving as a source of connection and inspiration for all women. Views expressed by contributing writers are not necessarily those of the AWS staff. Although most submissions are published, we reserve the right to reject material. Editing for clarity or brevity may be done at the editor's discretion. Entries submitted are not returned. AWS will not publish anything that denigrates any animals, people, or the environment. Contributing writers retain First Rights of published material. © 1994 Alaska Women Speak